Rigby Jones has a long track record of working with architects and designers to achieve outstanding results with architectural steel. Our extensive in-house capability allows us to push the boundaries of steel bending, rolling and cutting so we can meet the specification of your design.
We pride ourselves on our ability to provide an honest evaluation and custom solution for your project. Our team will recommend the best processing method to achieve the finish you require. For instance, we are able to form steel to various shapes, providing a more aesthetically pleasing look in comparison to straight lines and edges achieved when welding.
We're always happy to do that little bit extra to make sure we meet our clients' requirements. And we understand that when it comes to architectural steel, those requirements may change as the project progresses.
We work in consultation with both your design team and the fabrication team to ensure the best outcome for the project. At Rigby Jones, we have a process that guarantees flexibility for our clients.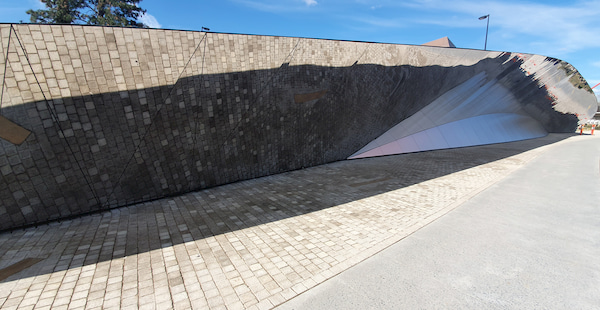 Our work in architectural spiral staircases is a showcase of both our quality and capacity.
We've delivered complex custom solutions for projects at Quay Quarters and Barangaroo in Sydney.
The Quay Quarters project features 34 stair flights, measuring on average 5.2 metres in diameter and 3.7 metres tall, providing open connectivity between floors.
The centrepiece of the Barangaroo Tower 2 foyer is a complex 50 tonne feature spiral staircase with exposed steel and a curved balustrade glass.
We worked with a successful engineering business in Sydney to prefabricate curved 32mm steel.
We've recently worked with a designer on a restaurant installation that included a wall of raw steel. During the handling and bending process the steel pressings were being marked and scratched.
This is not unusual and wouldn't be an issue in most applications, but this was a feature piece and we needed those imperfections to be minimised as much as possible.
We used a PVC coating during the bending process to protect the steel during the bending process and delivered the desired result. It was a simple yet effective solution and just one example of how we always go the extra mile for our clients.
When it comes to architectural steel, material choice is a vital factor in achieving an optimal finish. Rigby Jones has excellent long-term relationships with steel suppliers here in Australia and worldwide. We only source quality steel and can assist you in selecting the correct material for your project.
We're experts in the complex cutting, forming and custom steel processing of carbon steel, quench and tempered steel, corten steel, stainless steel and aluminium of all grades. All of our steel is supplied to Australian standards, and our work is ISO 9001 certified.
We specialise in complex architectural steel projects including:
Spiral staircases
Public art
Custom guttering systems
Impact covers
Corten (WR350) projects
Laser cut screens
Architectural awnings
Street furniture
Planter boxes
Are you looking for a custom steel solution?
---
At Rigby Jones, your supply and steel processing requirements are met under one roof. Find out more about our team.